Posts for: March, 2014
Chewing tobacco is a known cause of oral cancer, yet many a Major League Baseball player has been seen walking onto the field with a round tin visibly poking out of his back pocket. That was before this year. Recognizing the influence big-leaguers have on their young fans, MLB players agreed to a new contract that limits their use of chewing tobacco and their ability to carry it around their fans. The 2012 season is the first to be played under the new rules, which were championed by Baseball Commissioner Bud Selig.
One player who used smokeless tobacco heavily is Baseball Hall of Famer Tony Gwynn. The former Padres slugger earlier this year endured 14 hours of surgery to remove a cancerous growth from the inside of his right cheek and graft a nerve from his shoulder to replace a facial nerve damaged by the tumor. This was Gwynn's second cancer surgery in less than two years.
When it comes to oral cancer, the importance of early detection can't be stressed enough. Unfortunately, this form of cancer is not usually detected until a late stage so the overall survival rate is poor, with only 58% surviving five years after treatment. Yet when oral cancer is detected while a lesion is small, survival rate exceeds 80%. That's why an oral cancer screening is always part of your dental check-up or regular cleaning appointment at this office.
During this screening we will examine your face, neck, lips, mouth, tongue and the back of your throat for any suspicious lesions (sores or ulcers) or lumps. Of course, if you notice any unusual lesions, or color changes (white or red patches), anywhere in your mouth that do not heal within two-three weeks, please come in to see us as soon as possible. And if you need help kicking a tobacco habit, we can advise you on how to get it.
If you would like more information about oral cancer, please contact us or schedule an appointment for a consultation. You can also learn more by reading the Dear Doctor magazine article "Oral Cancer."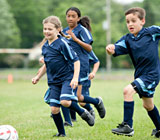 They work hard, and put in lots of time on the field and at home. They learn the rules of the game — as well as the unwritten rules of sportsmanship and teamwork. They receive the proper training, and wear appropriate protective equipment. But sometimes, in spite of everything, kids who participate in sports can be subject to injury. Fortunately, in today's dentistry there are a variety of treatments, as well as preventive measures, which can help.
When faced with serious dental injury, time is of the essence in saving teeth. So, don't delay — come in to see us immediately! If treated promptly, it's possible for teeth which have been dislodged — or even knocked out of the mouth — to be put back in position and stabilized. Afterwards, follow-up treatment will ensure that the tooth has the best chance of recovery.
The treatment of kids' dental injuries is sometimes different than that of adults. For example, in adults, a root canal would generally be necessary, followed by a tooth restoration (crown). But some kids may not need this treatment, since their teeth are still developing. Also, replacing a missing primary (baby) tooth may not be recommended, since it may hinder development of the permanent teeth. Based on his or her individual circumstances, we can develop an appropriate treatment plan for your child.
Luckily, the most common dental injuries aren't nearly as serious — they typically involve chipped or cracked teeth. Most can be repaired by reattaching the broken piece, or using a tooth-colored restoration. If a large part of the structure of a permanent tooth is missing, a crown or "cap" may be placed on the visible part, above the gum line. Smaller chips, even in primary teeth, can be successfully repaired by cosmetic bonding with composite resin materials.
Finally, if your child is involved in athletic activities — or if you are — consider obtaining a custom-made mouthguard. Numerous studies have shown that this protective gear can help prevent many dental injuries. Unlike the off-the-shelf types found in some sporting-goods stores, the ones we provide are individually fabricated from an exact model of the teeth. They're strong, fit comfortably, and offer superior protection at a reasonable cost.
If you have questions about the treatment of sports-related dental injuries, or about mouthguards, please contact us or schedule an appointment for a consultation. You can learn more in the Dear Doctor magazine articles "Trauma & Nerve Damage to Teeth" and "Mouthguards."